Jurassic World: Dominion Dominates Fandom Wikis - The Loop
Play Sound
Please don't do anything to this page, it is still being worked on by the admins and people who want to help this wiki grow.
Aero the Acro-Bat is an American animated television series based on the video game series of the same name. It was produced by Universal Cartoon Studios and Sunsoft of America. It was initially broadcast on Fox Kids from August 1995 to November 1998.
Plot
The first season primarily follows the plot of the first game in the series with several modifications to pad out the story into 30 episodes. Aero, a cocky yet fearless teenage bat, is set out to save his traveling circus home from being destroyed by ex-circus owner, Edgar Ektor. Some episodes are more focused on developing Aero and his friends as characters, being heavier on the comedic tones than other episodes. These lighter episodes also serve to explore the origins of him, his older sister, Ariel, as well as a band of acrobatic bats called The Flying Pepperonis, who have previously only appeared briefly in the second game.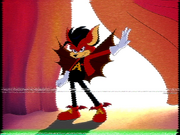 The second season picks up where the first game left off, following the storyline of Aero the Acro-Bat 2. Aero embarks on a journey around the world through a mysterious teleporting box found in Ektor's museum, eventually being lead by a girl named Batasha, encountering dangerous locations along the way.
The fifth and final season serves as an epilogue to the second game with most episodes focusing on where the characters have ended up since the defeat of Edgar Ektor. The show was completed after Aero had children with his future wife.
The setting of the circus is established as a futuristic company travelling through the air via a series of connected airships. As a result, many episodes take place in a variety of locations around the world, from the American countryside to Japan, each location being different every few episodes. The ringleader, a recurring character in the series, revealed early in the first season that this form of travel was created for the purpose of escaping Ektor's takeover attempts. This was rendered useless when Zero built Ektor's flying machine towards the end of the season, officially starting the story of the first game.
Characters
A majority of the main characters were directly taken from Aero the Acro-Bat, its sequel, and Zero the Kamikaze Squirrel. A variety of secondary characters, however, are exclusive to the cartoon series.
Circus Heroes
Aero the Acro-Bat (voiced by Cam Clarke) –
Ariel (voiced by Kathleen Barr) –
The Ringleader (voiced by Kath Soucie) –
Villains
Zero the Kamikaze Squirrel (voiced by Michel Gough) –
Edgar Ektor (voiced by Jim Cummings in all seasons) –
Shorty ( Voiced by Dan Green) –
Bruno (Voiced by Mario McConny) –
Episodes
Series Overview
Season
Episodes
Originally Aired
First Aired
Last Aired
1
13
September 2, 1995
November 25, 1995
2
14
August 24, 1996
November 23, 1996
3
20
September 6, 1997
October 11, 1997
4
20
October 11, 1997
December 25, 1997
5
30
January 15, 1998
April 25, 1998
Season 1 (1995-1996)
No.
Title
Original Air Date
1
"The Show Must Go On"
September 2, 1995
Edgar stages a freak accident during Ariel's trapeze performance, injuring her and damaging the circus tent. Ariel is then kidnapped and used as bait for a death trap.
2
"Showtime in High Noon"
September 9, 1995
Zero challenges Aero to a friendly acrobatics/dance competition during a show. Meanwhile, Zero convinces Shorty and Baz set up a trap to get rid of Aero during the contest.
3
"Up, Down, and Away"
September 16, 1995
The circus sets off in a train of air ships to Ontario for another show. Edgar sends Baz and his army of flying clowns to attack. Meanwhile, a surprise birthday party is planned for Aero.
4
"The Greatest Disaster On Earth"
September 23, 1995
Edgar kidnaps the Stilt Brothers and forces them to rig the Fun Park rides to chase out customers. One of the brothers secretly warns Aero and he has to rescue the riders.
5
"Project: Bubbles"
September 30, 1995
Ariel notices Zero's hostility towards Aero and confronts him. She accidentally discovers his secret project, a clown shaped tank called Mr. Bubbles.
6
"Et Tu, Zero?"
October 7, 1995
Aero receives a cryptic message to meet someone in the Fun Park after a show. He is then forced to fight Zero while Ariel fights off Edgar's clowns who were terrorizing people in the tent.
7
"The Ultimate Bat Trap"
October 14, 1995
As the circus performers are rehearsing, Aero sets out into the forest after hearing rumors of a runaway killer clown.
8
"Are You My Family?"
October 21, 1995
Ariel reminisces the day her and Aero became circus stars. Upon the kidnapping of the other performers, Aero sets out to search for Edgar's Museum of Horrors.
9
"Charge!"
October 28, 1995
Edgar is notified of Aero journeying to his museum, prompting him to prepare traps. Meanwhile, he sends a clown army to slow Aero down.
10
"Check and Mate"
November 4, 1995
Aero camps in a hidden cave for the night and finds a clown laying unconscious in it. The clown offers to help him find an enchanted orb that allows its user to hover in the air.
11
"Marvin, Master of Illusion"
November 11, 1995
Upon arrival in the museum, Aero meets Marvin the Magician, who claims to know a shortcut to the dungeon. These shortcuts then lead to a maze of illusions full of dangerous projectiles.
12
"To Clown Heck and Back"
November 18, 1995
Aero finds the dungeon, but is attacked by Marvin and his ghoulish army. He is then taken to Edgar, who demonstrates his flying machine alongside Zero, capable of destroying cities.
13
"Is This the End?"
November 25, 1995
As Aero is battling Edgar Ektor, Ariel finds a way to get out of the dungeon, fighting evil clowns after regaining their freedom. After Edgar's defeat, a celebration is held at the circus, unaware that he is still alive.
Season 2 (1996-1997)
No.
Title
Original Air Date
1
"A New Start"
2
3
4
5
6
7
8
9
10
11
12
13
As Aero is battling Edgar Ektor, Ariel finds a way to get out of the dungeon, fighting evil clowns after regaining their freedom. After Edgar's defeat, a celebration is held at the circus, unaware that he is still alive. (This will be changed).
14
Season 2 (1996-1997)
Season 3 (1997-1998)